2022 Salary Guide for
Therapists & Counselors. How much do therapists make?
This is the ultimate salary guide for Therapists and Counselors!
So if you want to stay informed and up-to-date on all things salary, you'll enjoy the actionable tips and research we conducted in this new guide.
Let's dive right in!
Whether you're looking for a new job or you're a practice owner looking to hire, it's important to stay up-to-date on salary information. There are a lot of resources out there about mental health professional salary and compensation, but sometimes this data is skewed or unclear. 
Because it can be hard to understand and digest vast amounts of data, we've created a survey to send to our most trusted mental health professionals and practices to gather REAL WORLD DATA.
In this guide we will explain different data we've gathered from 40+ practices to give you an idea of what to expect in 2022 when it comes to salary and compensation.
Here's a Quick Summary of Our Key Findings:
1. Master's Degrees are more common than Ph.D.s or Psy.Ds.
2. Private pay practices make significantly more per-client than insurance based practices.
3. According to our research, private practice was the #1 place to work for therapists.
4. Most therapists are paid hourly.
5. Mental Health Professionals are typically W-2 employees.
6. Over 50% of therapists receive some sort of benefits (Breakdown of benefits for therapists.
Our survey consisted of demographic questions like location and age. We also asked about education, type of practice, licensing, length of time working at practice, pay, and benefits.
We collected data through our extensive and trusted Brand Your Practice mailing list. Data collection for this report took place from during the month of April 2022. After collecting 46 survey results we closed the survey.
Those who responded to our survey were:
Primarily from the United States (95.7%)

Highly educated as more than 97% of them had a Master'

s degree or higher

70.2% of them came from group practices and 29.8% were single practice owners

89.4% were fully licensed

38.3% were practice owners
Our 2022 Mental Health Profession Survey Results

1. Most clinicians have Master's degrees or higher
Most clinicians need to have a Master's degree or higher in order to practice. This is required in order to be able to get licensed in every state. However, there are some states that allow those with a Bachelor's degree to get licensed as well. The majority of those who responded to our survey had a Master's degree (76.6%) with the second most popular being a PhD or PsyD degree (17%).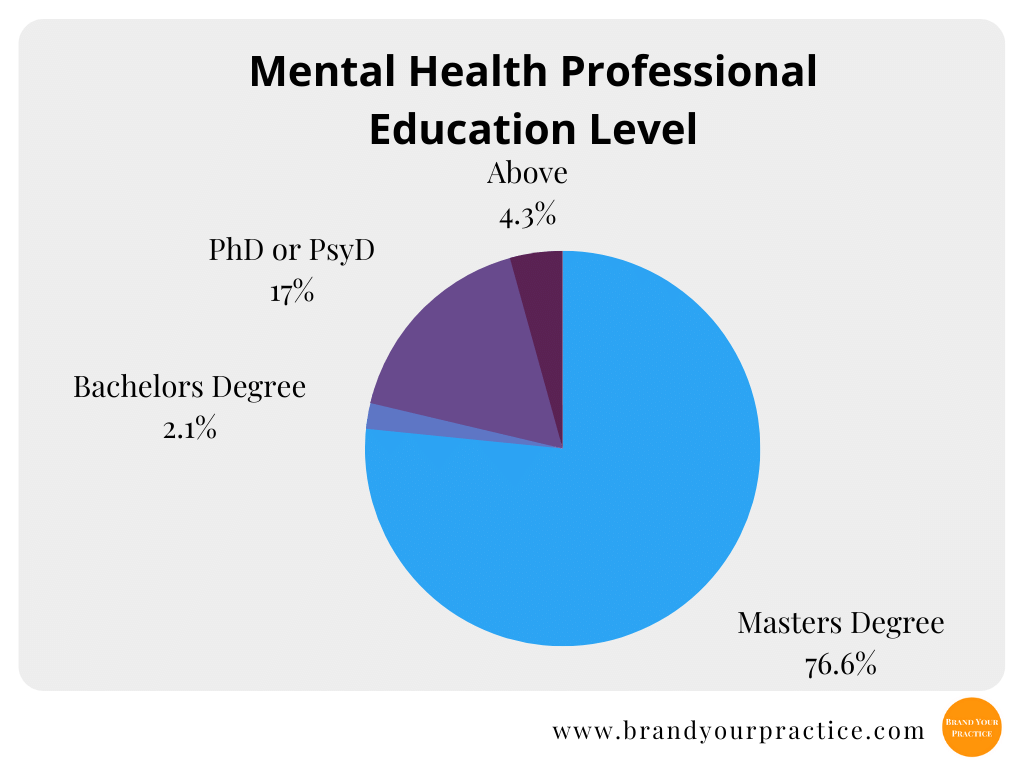 In addition to having a Master's degree, 89% of our responses indicated being fully licensed, while 8.5% were provisionally licensed and 2.1% were state certified.
TIP: As a therapist its crucial to keep your licenses and education up to date. Make sure to follow state licensing guidelines, attend additional trainings, and never stop learning how to better help people! This will definitely pay off down the line.
2. Those in Private Pay Practices make more per client than Insurance based practices

Mental health professionals in private practices generally make more money per hour than insurance based practices.
As you can see, the difference between private pay and insurance rates is significant. Private pay prices are generally considerably higher, allowing you to make far more money per session.
Of course, there are always exceptions to the norm. Some therapists charge less than $75 per hour while others request more than $150.
3. There is a wealth of places therapists can work

Not all therapists work in the same type of environment. In fact, there are a variety of settings in which mental health professionals can practice.
The most popular type of setting among our respondents was group practices (70.20%), followed by solo practitioners (29.80%).
Of our respondents, 70.2% worked in private practices followed by 8.5% who worked in Community Health Agencies. Other types of settings include: hospitals, residential treatment centers, schools, and the nonprofit sphere.
If you're looking for a change of pace or a new environment, know that there are plenty of different places you can work!
4. Therapists are commonly paid hourly

The most common type of salary among our respondents was hourly pay (45.7%), followed by salary (23.9%) and split fee (19.6%).
If you are unfamiliar with what split fee pay is, it is when the therapist and client agree to split the fee for services. This is common among those in private pay practices.
It's important to note that salary and hourly pay can vary greatly depending on a number of factors such as location, type of practice, and years of experience.
If you're a therapist looking to negotiate your hourly pay, it's important to do your research and know what the average hourly pay is for your area and experience level. Don't be afraid to ask for what you're worth!
5. Most therapists are W-2 Employees

The majority of respondents indicated that they were W-2 employees (53.5%), while 46.5% said they were independent contractors.
These are close numbers, but it's important to know the difference when it comes to things like benefits, flexibility and taxes.
As an employee, you will likely have more protection in terms of salary, vacation days, and other benefits. You will also have taxes automatically deducted from your paycheck.
As an independent contractor, you are considered to be your own business. This means that you will be responsible for setting your own salary, as well as paying taxes and other fees. You may also have more flexibility in terms of setting your own hours and working from home.
Both options have their pros and cons, so it's important to do your research and figure out which suits you better.
6. Benefits vary by practice

Here is a breakdown of the benefits our clinicians receive: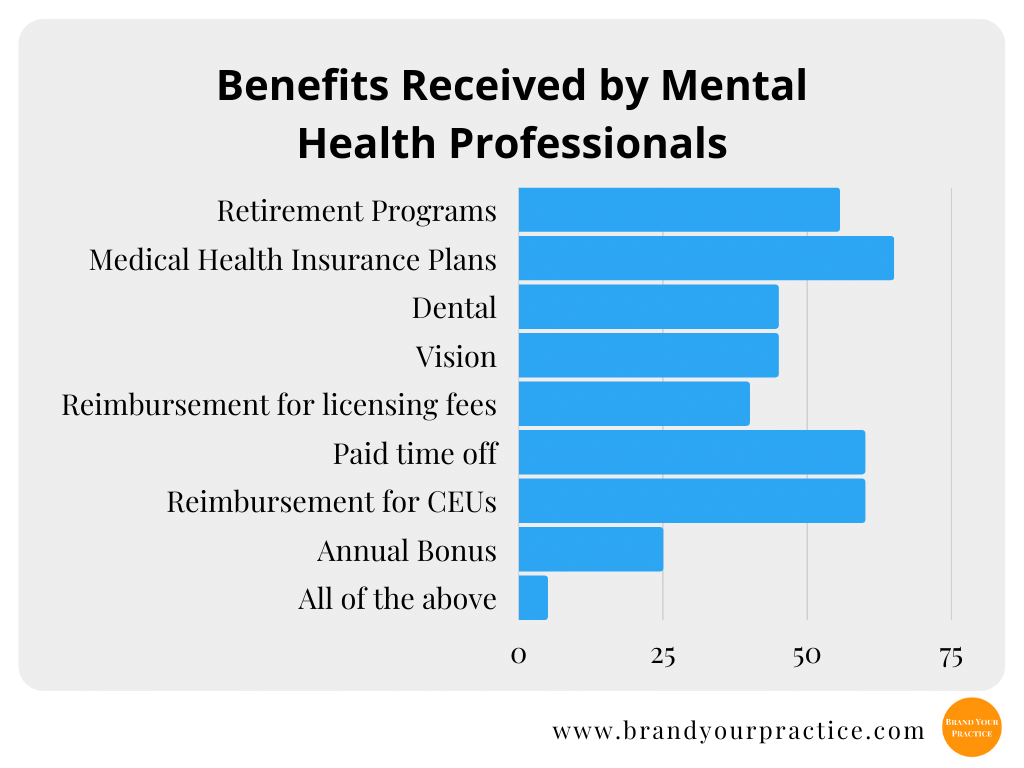 55% receive retirement program support (401-K, SEP accounts, etc.)

65% are covered by Medical Health Insurance Plans

60% have paid time off

60% get reimbursed for CEUs

25% get an annual bonus
These are the common benefits provided for therapists, however, some employers offer other benefits such as student loan repayment, sign-on bonuses, and more.
If you are a practice owner thinking about how to best pay your therapists, check out this amazing podcast episode!
If you're a therapist looking for a new job or think you could negotiate for more benefits, be sure to do your research and ask around your practice to see what is common. It's important to make sure you are being compensated fairly for your work.
7. Therapist Salary Breakdown

As we mentioned earlier, salary can vary greatly depending on a number of factors. In this section, we will break down average salary by full vs. part time therapists and  by years of experience. 
Based on actually number from the practice owners we support, we've compiled the following salary information. These data points are not a comprehensive picture, but a snapshot to get a feel for what salaries look like for private practice therapists.
All the following salary information comes from the average salary for private practices in the United States.
Part-Time Therapists make on average $31,650 per year.

Full-Time Therapists make on average $66,700 per year.

W-2 Therapists make on average $48,900 per year.

1099 Independent Contract Therapists make on average $62,100.
As expected, the amount of years a therapist has worked at a practice matters too.
Therapists with one to two years of experience make an average salary of $46,900 per year.
Therapists with three to four years of experience make an average salary of $64,700 per year.
Therapists with five years or more of experience make an average salary of $75,000 per year.
As we can see, there is a significant jump in salary from one year to two years of experience for therapists. This is likely because they have a more established and consistent caseload.
NOTE: It's also important to remember that salary is not the only factor in compensation. Benefits, bonuses, and other factors can play a significant role in how much money a therapist takes home each year.
The mental health industry is ever-growing, and it's important for professionals within the field to stay up-to-date on salary information. This is important information for any mental health professional, as knowing what to expect can help with budgeting, career planning, and more. 
We hope this guide provides some valuable insights into the current state of salary in the mental health profession!
We want to extend a heartfelt thank you to all of the mental health professionals who took the time to fill out our survey. Your responses helped us paint a more accurate picture of what salary and compensation trends we can expect in 2022.