Marketing for Therapists 2023: Step-By-Step Guide & Checklist
After successfully launching over 12 private practices, I've distilled down the 9 basic marketing steps for therapists.
Download the free checklist and get started!
So, what is marketing?
Thousands of pages of ink have been dedicated to this question. But, I believe Seth Godin sums it best when he says,
"Marketing is the generous act of helping others become who they seek to become. It involves creating honest stories—stories that resonate and spread." – Seth Godin 
For the therapist, marketing is the generous act of helping others transform into a healthier person, an empathetic spouse, a confident parent.
Good, honest marketing is inherit to the very thing you help other humans to become: the best version of themselves.
Good and honest marketing, at the end of the day, is about transformation.
It is telling an honest story that resonates with your ideal client so they choose to work with you to get the transformation help that they need.
If you follow these 9 marketing steps, you will build a powerful brand that will create a pipeline of new clients wanting to work with you.
Step 1: Create a Brand Message



The Foundation of Mental Health Marketing
Because marketing is telling honest stories, we have to start at the beginning: your brand message.
Your brand message is the story of transformation that will attract your ideal client and compel them to schedule an appointment with you!
The problem is many therapists will often build a website that's confusing and doesn't tell a compelling story of transformation.
When you have a confusing brand message:
Potential clients will not schedule with you.

The wrong clients will want to work with you.

Your practice won't grow.
But that doesn't have to be you.
As a Storybrand Certified Guide, I use the Storybrand framework to get crystal clear on my client's brand messages so they can attract the right clients and grow their practice.
Storybrand uses the hero's journey storytelling framework. This means you are the guide, your client is the hero. Your role is to lead them on a journey of transformation. The Storybrand framework helps you tell that story.
Here's how you can do it.
Your brand message will follow this framework:
The hero (your client)

Has a problem(s) (e.g. a difficult marriage)

The guide (Marriage Therapy, PLLC)

The guide gives a simple plan

The guide calls the hero to action

The hero either wins the day (transforms) or fails.
Here is a behind-the-scenes video walkthrough of how I prepare my partnership clients to build out their brandscripts so they can film a profile video.
Your brand message will provide the foundational scripts for:
Your homepage website

Videos on your website

Blog posts

Social media posts

Speaking engagements

Podcast interviews
If you don't create your brand message first, everything gets misaligned. Your brand message is the north star for your marketing.
So, once you have your brand message, now you can start to build out a website that will convert clicks into clients.
That Converts Clicks Into Clients
Your website should be a 24/7 selling machine.
And, to get started, you only need a one-page website.
I created a comprehensive walkthrough video of how you can design your therapy homepage.
Here are the 7 essential sections you need on your homepage to convert clicks into client.
Section 1: Header
The header is the most important part of your homepage.
In 3 seconds you need to communicate:
What you do
Who or How you help people
How to schedule an appointment.
If you don't do this, you loose them and they will start looking at your competition.
Here's a breakdown of Kid Matters Counseling's homepage header.
Section 2: Highlight The Problem
A story of transformation always has a clear problem or problems to overcome.
Make sure you state 2 or 3 common problems your idea client struggles with.
Section 3: Show Value & Display Services
Clearly state (or re-state) the benefits of your counseling practices.
You could also place a practice or profile video here if you like.
Or, if you have multiple services, you could display them like this. These could serve as "off ramps" from the homepage to your service pages.
See this section explained in action!
Section 4: Provide a Plan
Don't assume a potential client knows how to get started with counseling. Just lay it out in a simple 3-part plan.
Here's what typically works:
Step 1: Schedule an appointment.
Step 2: We'll schedule your first intake appointment
Step 3: You'll begin to cultivate change
Section 5: Share Testimonials
Testimonials are essential to demonstrating your authority. People shop for therapists like they do for clothes on Amazon.
First, they search.
Second, they first click on the product with the most stars and highest rated.
Third, they read the reviews before buying.
Reviews & testimonials influence influence our buying decision. For potential clients, they are constantly asking themselves in their subconscious, "Could I trust this person with my deepest secrets and wounds?"
Testimonials could make or break that decisions.
Section 6: Demonstrate Authority
Authority badges are basically another "trust" signal to potential clients that you have the authority, training, or trust to help them.
Websites do this ALL the time because it works.
You could also this section to signal to potential clients you are in "in-network" with insurance companies.
See how to use authority badges on your homepage!
Section 7: Footer Items
The footer area should have this essential information:
Phone number
Office Address
A form to ask a general question.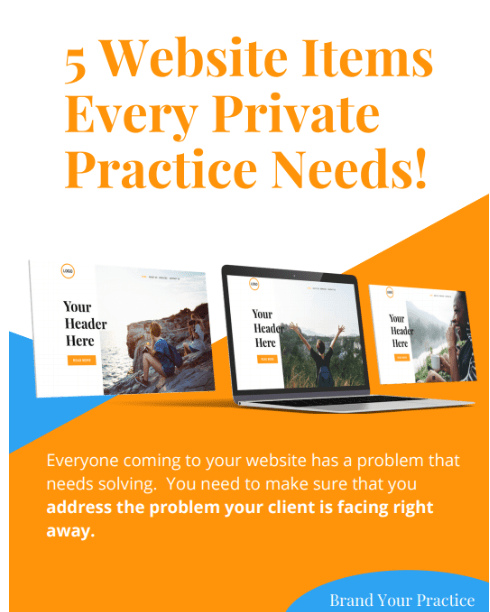 Step 3: Marketing on Google



Show Up When Potential Clients Need You (SEO)
SEO is a massive topic, but there are 3 things you can do right now to help your website show up when people need your service, in the location that you serve.
But, before we get there, you need to know these 3 things about Google:
First, Google doesn't rank websites, it ranks webpages.
Google treats each page of a website individually. That means you need to be strategic about the "keywords" you want to highlight on each page of your website.
Second, Google typically weighs the homepage as more authoritative than the other pages on your website.
Third, Google wants to connect people searching for information or services with the BEST results.
That way, people keep coming back to Google for searches (and selling ads to advertisers 🙂
Here are 3 things you can do to make sure you website starts to rank on Google's organic ranking:
1. Title description: A website title, or title tag, is **an HTML element that specifies the content of a webpage. Think of it the title of a book.** A website title is helpful for search engines because it often shows up in Google's search results.
2. H1, H2 Headings: H1 and H2 headings are like chapters and subheadings on a webpage.
Best Practices:
1. Only have one H1 per page.
2. H2 are related sub-categories of the H1. So possibly H2 would be "child counselors" or "pediatric therapists."
3. User Experience
1. Keep Website Scanable
2. Add Videos
3. Links to other blog posts, about pages on your website.
Step-by-Step Video On How Therapists Can Optimize Your Website for Google
Step 4: Collect Email Addresses



Build A Direct Line of Communication With Your Audience
Not everyone is ready to schedule an appointment for counseling. But, with a email nurture sequence, you can live in their inbox "rent-free" until they are ready to schedule.
The best way to do this is by creating a valuable lead-generating PDF in exchange for an email address.
Many of you have experienced this: you give someone an email address in —exchange for a PDF booklet or a video series.
—
Lead-generating PDFs will:
First, it solves a problem. Your lead generator has to solve a particular problem your ideal client is facing.
Second, make sure it has a catchy title. You want people to click on it.
Third, provide great content and call them to action.
A great lead generator solves a problem, but also opens up another problem that your paid services can uniquely solve.
I suggest using software like Mailerlite to automate this whole process.
Here's a simple email sequence that you can use to nurture a potential client into becoming a paid client.
1. Email 1: Deliver the PDF to download
2. Email 2: Expand on Pain Point #1 from the PDF download
3. Email 3: Pick 2-3 testimonials to share
4. Email 4: Send brand message script or video with a Call to Action to schedule an appointment, or to follow you on social media, or share with a friend.
Here's a behind the scenes look of a successful lead generating PDF and email nurture campaign:
Step 5: Create Marketing Videos



The Fastest Way For Prospects To Know Like & Trust You

Video is the best way to stand out from the competition and attract your ideal client.
And, here's the good news, most therapist don't use video.
We surveyed a few towns in the western suburbs of Chicago:
Hinsdale, IL – Therapy Websites
29 practice websites surveyed.
5 websites had videos on their home page.
19% of Hinsdale counseling practices have videos on their homepage.
Wheaton, IL – Therapy Websites
22 practice websites surveyed.
4  websites had videos on their home page.
18% of private practices in Wheaton had videos. Two of them were large group practices.
Here are 3 reasons why you need to prioritize video in your marketing strategy:
1. Video allows someone to know, like, and trust you faster than any other media.
Let your personality shine! It's the #1 way you can differentiate your therapy brand from the competition.
Video is a great way to both attract and repel clients. It will attract the clients you want to work with, and turn away those clients who are not a good fit for you.
2. Websites that use video have higher conversions.
It's true and that's why SO many brands are heavily investing in video.
Including a video on your homepage can boost conversion rate (new client appointment requests) up by 34%.
3. Video will boost your SEO.
One of the ways that Google rewards a website with higher rankings is if you're able to show Google that your website is relevant to what the searcher is looking for.
These are user interaction signals. (Yes, Google knows how people interact with your website).
User interaction signals (*user behavior*) that Google looks for are:
Did they click around to another page?

Did they watch a video?

How long did they stay on the webpage?

How far did the scroll down the page?

Did they hit the back button?
Step 6: Create An Attractive Psychology Today Profile



Stand Out From Crowded Directory Sites
It takes Google 4-6 months to start ranking a new website.
It's painfully long.
In the meantime, you may want to invest a small amount of your marketing budget and sign up for a listing directory like Psychology Today or Good Therapy.
As of now, Psychology Today, by leaps and bounds, has the best SEO rankings on Google so that could be a good place to start.
Regardless, this formula will work with any therapy directory site.
So here is my 5-step formula for creating an attractive Psychology Today directory profile.
Step 1: Create a Visual Hook
You need to visually stand out on the initial directory page. There are a few ways to do this, but having a special character ( * ) , or ALL CAPS, could be a visual way to stand out.
I like having my clients write "Accepting New Clients" because not many therapists are. And, people are on Psychology Today because they are looking for a therapist!
Psychology Today has a video icon that helps your profile picture stand out a bit.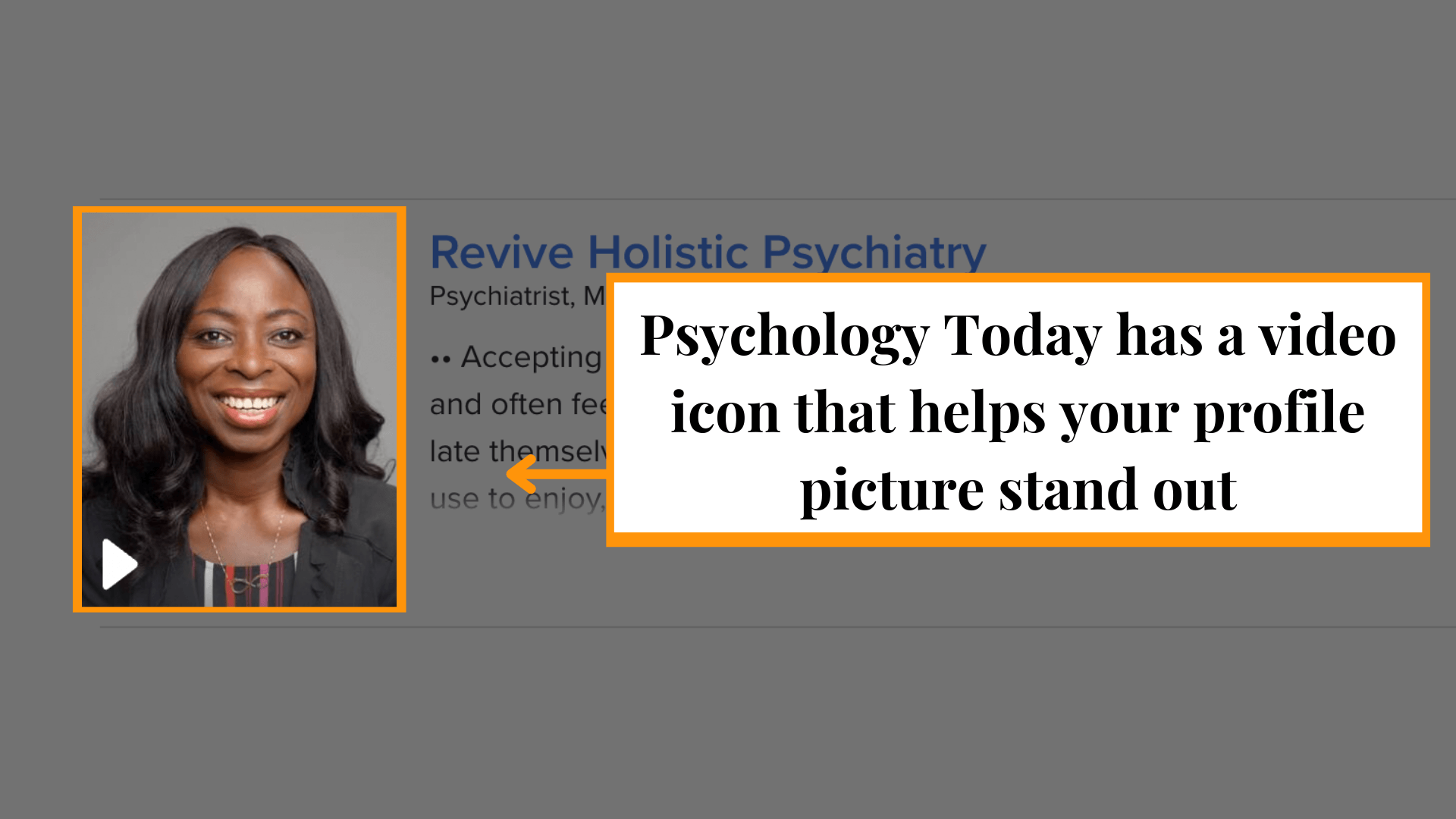 Step 2: State Your Ideal Client
You may only have 2 to 3 lines to state your ideal client. So lead with your ideal client and/or the symptoms that you treat.
In this example, we have both.
Step 3: Hook With The Problem
The best copywriters open up a "story loop" and it keeps people reading until it's closed. You open a story loop by address a problem. (That's what we do with the brand message above).
So combine your ideal client and state their main problem at the beginning so they will keep on reading until you close the loop.
Step 4: Provide a Solution
You close the story loop by providing a solution which is your counseling services. So let them know your services.
Step 5: Call Them To Action
Don't assume people know what to do next. Tell them exactly what you want them to do. This is a call to action.
For a directory site you can say:
"Call to schedule an appointment today"
"Click on the website link to schedule an appointment."
"Click on the website button to discover how I work with clients and to see if we're a good fit."
BONUS TIP: Try throwing in a testimonial in your description!
Step-By-Step Video On How To Create An Awesome Psychology Today Profile
BONUS: Real World Results with Psychology Today
Does having Psychology Today pay off? Well, let's take a look at some real world results from some of my clients.
Results are from June 1, 2022 through November 4, 2022
14 new users

No recorded conversions (new appointment requests)

Good engagement rate (a positive user signal)
44 New Users

4 Conversions (new appointment requests)

2 minutes 16 seconds user engagement (a positive user signal)
95 New Users

18 Conversions (new appointment requests)

1 minutes 3 seconds user engagement (an okay user signal)
21 New Users

1 Conversions (new appointment requests)

52 seconds user engagement (an okay user signal)
**Please note: location, population density, and demand for services all effect these results. But one thing is for certain, Psychology Today, generally, does provide exposure and results for private practices.
Step 7: Write Blogs That Connect With Clients



Create A Content Marketing Strategy In Minutes
Writing blogs can be simple and only requires a few hours of your time a month. And, if you're consistent, it will boost your SEO and provide you with content to share in your monthly newsletter.
Here's how I would start a blog today:
First, research content.
Google is a fantastic resource to do research on topics and it's absolutely free. Just type in common problems your client is already facing and you'll see what Google is already ranking.
Now, just because you write an article on a similar topic doesn't automatically rank your website on Google, but it does these two things:
First, it provides additional content for Google to better understand your website and builds your "authority. "
Second, it provides answers to common questions your ideal client is struggling with. So, when they land your website, they see that you've already answered a lot of their concerns and positions you as a trusted guide to help them.
BONUS: If you need extra inspiration reflect on the previous sessions of the week. Choose one or two clients and their presenting problems. Are these problems you could address in a blog post?
Action item: research the topics you'd like to write about.
Second, decide on which topics you'd like to turn into "listicles."
You see these all over the internet:
"5 Signs Your Marriage Is Headed Toward Divorce"

"3 Anxious Habits That Are Affect Your Relationships."

"7 Parenting Tips to Help An Anxious Child."
You have your titles, sub-titles, now just lend your voice to the topic at hand.
Keep is simple. Write at the level of a second grader.
Third, commit to writing one blog article a month.
Put it in your calendar and set a reminder.
I recommend spending the early part of your week (Monday & Tuesday) and devoting at 1 hour of writing per day.
If you focus on writing about the problems your ideal client faces then they will stay on your website longer. And, when they do that, you are building trust with them. So, when they are ready to start counseling, they will contact you first.
STEP 1: Research Common Client Questions

Do a live search for "signs of emotional" and SEE all the suggested topics

STEP 2: Decide on the Topics Relevant To Your Ideal Client.

Open up Google Doc

Add Topic

STEP 3: Commit to writing

Create a Calendar & Accountability
BONUS TIP: If you're just starting a new website, I would focus on writing 3-5 blogs so your website looks "older" than it actually is.
Step-By-Step Guide to Researching & Writing Awesome Blog Posts
Step 8: Build A Referral Network



This is the #1 Way To Build A Word of Mouth Referral Network
Building a network of referral sources is the key to a successful marketing strategy.
At the end of the day, people do business with other people they trust. Period.
Here's how you can get started with building your own network:
First, identify potential referral sources who have access to your client.
If you're a child therapist, then write out names of pediatricians. If you work with depression or anxiety, reach out to several psychiatrists.
Second, reach out to them 5x's over the next 3-4 months.
Ask them to connect over coffee, lunch, or even Zoom. Send them flowers or a gift to get their attention. The research shows that your brand needs to show up at least 7 times before people start considering you as a trusted source.
But you can build trust even faster with hand written letters, gift giving, and in-person meetings.
Third, keep track of your sources with a Google doc. Here's a free Google sheet template that you can use.
The only way you do this well is if you systematize it. Rinse a repeat.
The therapists that work at building their referral sources grow the fastest. My largest clients are the ones who have built a referral network.
The result: a steady pipeline of new clients from their referral sources.
So, what are you doing to be the #1 resource in your community for your ideal client to go for mental health support?
Real talk: Social media today is a bit of dumpster fire.
For local therapy practices who don't have a dedicated social media point-person, in my opinion, social media for business is a waste of time.
After growing Kid Matter's Counseling Instagram account to 2,000 followers, we eventually stopped posting. The algorithms are constantly changing so you constantly have to change your tactics. (First it was Instagram Live videos, now they focus on Reels. Ugh.)
And, from our our tracking analytics, we rarely gained new clients from social media.
In my opinion, I wouldn't bother with social media.
BUT, if you want to experiment with social media, continue reading!
Using Social Media for Your Practice
The place people "hang out" today is ever more frequently on social media sites like Facebook, Instagram, and even Tik Tok. It can be valuable to have a presence on these sites not just to build your brand but also to reach out to people who might need your help.
If you do want to have a social media presence, you should do the following:
4 Tips for a Successful Social Media Marketing Strategy
1. Make a plan
Don't just start posting without having a plan or strategy. You should take some time to consider what you want to achieve through social media. What's the main conversion action you would like them to take? Sign up for a lead generating PDF? (see Step 4 above) or "schedule an appointment" are the two main actions I'd ask people to make.
2. Know your audience
Think about who you are trying to reach with your social media posts. What age group are they? What are their interests? What do they want to know? This will be helpful for you if you might buy ads on the platform.
3. Be consistent
It's important to be consistent with your social media posts. If you only post sporadically, people will stop paying attention to your account. Plus the social algorithm will not promote your posts.
BUT think quality over quantity. It's better to post fewer, high-quality posts than to flood your account with low-quality spammy posts.
From my conversations with other influencers and marketers, your "consistency" will probably look like every day or every-other-day if you are serious about growing a following.
4. Buy ads
Since most social media platforms will not show your posts organically, consider buying ads and test if your posts will gain any traction.
I suggest trying out posts for 30 days and putting ad spend behind the posts to see if they are growing your audience or people are following through on your call to action.
Facebook Marketing 
Facebook is a great way to connect with potential clients and referral sources, such as other therapists, doctors, or schools. You can use Facebook to share your thoughts on mental health, post articles or videos related to therapy, and even advertise your services.
Two common ways for a business to promote itself on Facebook include:
Using a Facebook page as a source of information like email, about section, number, messaging, link to website.

Using Facebook as an active and engaging social media presence to share and post videos, infographics, blogs and more.
Instagram Marketing
Instagram is a great platform for sharing beautiful images and videos, which can help you attract potential clients to your practice. Instagram shows the more human side of your business and allows you to share content that is visually appealing.
With a business profile you can use Instagram to:
Create a coherent page that will showcase your brand and your brand's story and values through feed posts, your bio and profile, and adding instagram highlights on your profile.

Make announcements and show what is happening at your therapy office through Instagram Stories, Instagram Reels, Instagram Live.
TikTok Marketing
TikTok is a relatively new social media platform that is wildly popular. TikTok offers short videos that are perfect for showing off your personality and sharing helpful tips or information related to therapy. TikTok can be a real opportunity for surprising growth and exposure.
If you decide to use TikTok for your business, some things you should consider:
Creating TikToks require a LOT of work and dedication

Short fun, creative, relevant videos perform the best on the platform

Necessary to stay up-to-date on the newest trends (TikTok sounds and viral videos)

Good video content can be hard to film
TIP: Repurpose your TikTok videos for Instagram Reels and YouTube Shorts to reach even more viewers.