Private Practice Sales Funnel
Create Your Sales Funnel with 1-on-1 Coaching with a Storybrand Guide
Automate Your Sales Funnel
Grow A Pipeline of New Clients
"Marketing shouldn't be this confusing…"
Most private practice owners know they need better marketing. But, let's face it. You are expert healthcare workers, not marketers.
The result? You lose potential clients because of a confusing and ugly website.
You need sales funnel if…
Your website isn't converting new clients.
You struggle to talk about your services.
You don't have a marketing plan.
You don't stand out from the competition.
You need accountability to move forward.
Marketing makes your head spin.
A Sales Funnel is like a 24/7 sales team. It leverages your brand message, website, & marketing strategy to "funnel" visitors into paying clients 
Create your sales funnel.
Grow Your business
Imagine waking up and seeing your email inbox filled with new clients waiting to schedule an appointment with you.
Create a Clear Marketing Plan
You'll have everything you'll need for a clear, straightforward, repeatable marketing strategy to grow your business.
Attract Your Ideal Client
Potential clients will understand what you do, how you can help them, and how to schedule an appointment with you.
Grow Your Pipeline of New Clients
As you bring potential clients into your sales funnel, you'll position yourself as an authority in your specialty, and over time, you'll become the #1 trusted private practice in your community.
I want to see your private practice grow.
Marketing your private practice doesn't have to be so frustrating. I'll guide you through the process that I've used to grow & scale private practices so you'll get it right, the first time.
Get your sales funnel today and experience the joy of growing your private practice.
Over the course of 5 weeks, we'll be creating a sales funnel for your private practice. As your personal marketing coach, I'll be meeting with you to make sure you get it right. 
NOTE: This is not a group class or online course. I'm meeting with you LIVE, 1-on-1.
Week 1 - Create Your Brand Message
Your brand message is like a hollywood script. It's the words you'll use to tell a clear and compelling story so potential clients will do business with you and not your competition. The brand message is the foundation of your sales funnel.
Week 2 - Fix Your Website
We'll take your new brand message and write the words to turn your website into a 24/7 sales team so clicks into clients.
Week 4 - Lead Magnet & Email Camapgin
Potential clients may not be willing to schedule an appointment right away. But you can attract and convert them without you doing the work with a lead magnet & email campaign.
Week 4 - Create Your Marketing Strategy
We'll create a 6-week marketing strategy roadmap to drive new clients to your website.
What deliverables will I get?
1-on-1 Coaching
You'll have a marketing expert who specializes in growing private practices on your team.
A Clear Brand Message
The "script" to communicate why you're the best option for your ideal client.
A Website That Converts Clicks Into Clients
Your website needs to be a 24/7 sales machine.
A Marketing Strategy Roadmap
A 6-week Marketing Strategy that's consistent, repeatable, and guaranteed to grow your business.
Schedule A Free Consultation
Space is limited, as I'm only working with 2 private practice owners per month. Sign up today!
Build Your Sales Funnel
Within 4 short weeks, you'll have everything you need to start marketing your private practice.
Grow Your Business
With a clear brand message & effective marketing roadmap, you'll cut through the competition and generate a pipeline of new clients.
Let's Build Your Sales Funnel!
Sales Funnels = Survival?
Creating a sales funnel doesn't have to be overwhelming and it's a lifeline for any private practice.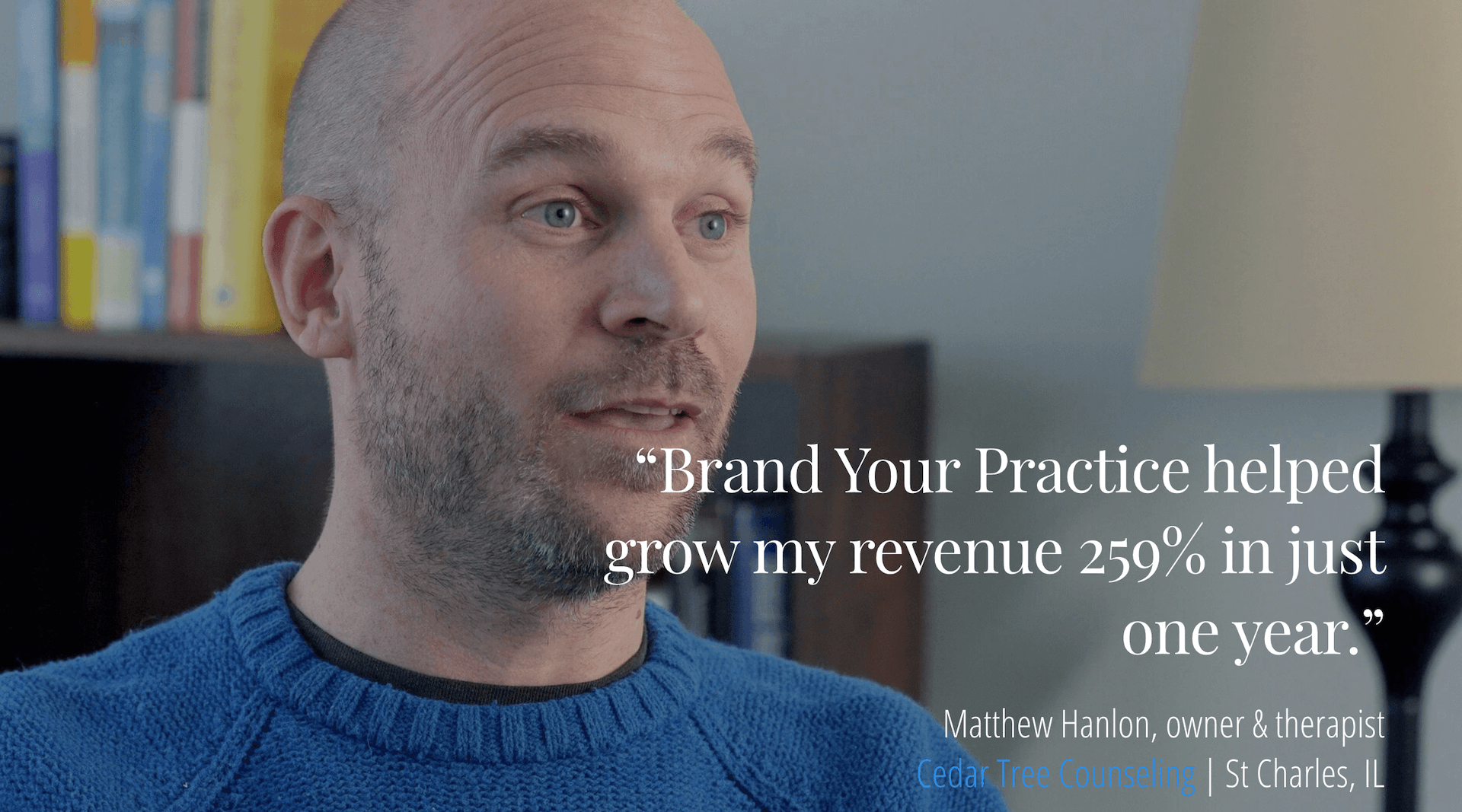 I know that you want to grow your private practice, help more people, and to increase your income.
The problem is most private practice owners lack the business and marketing skills to generate growth and attract new clients.
That's why we work with private practices to create a business growth plan & implement a marketing strategy so they can enjoy the freedom of having a pipeline of new clients, more financial independence, and the satisfaction of becoming the #1 trusted private practice in their community.
Frequently Asked Questions
What is a sales funnel, again?
Your content goes here. Edit or remove this text inline or in the module Content settings. You can also style every aspect of this content in the module Design settings and even apply custom CSS to this text in the module Advanced settings.
What if we don't finish the weekly project within the 90-minute time slot?
Not a problem. You'll have a full week to complete each project. I'll review it before the next time we meet.
Is this a group class or an online video course?
Nope! Neither. I'll be working with you 1-on-1 to create your sales funnel.
Do I need to know how to build websites?
No. I will take your brand message and turn it into a blueprint (aka wireframe) for your homepage.  You can hand the blueprint to a website designer, do it yourself, or hire my team to build one for you. 
What if I get stuck?
As your marketing guide, I will lead you through to the end. I will not let your fail. 
Will this work for my private practice?
Absolutely! This has worked for dozens of private practices and it will also work for you. 
Even better, most private practice websites are poorly designed and their brand message is confusing, so even a small improvement on your website will make you stand out from the competition!
Can I just hire you to do all this for me?
How many potential clients are you losing due to a confusing brand message and a website that isn't being found by those who need you? How much longer chan you watch the competition outrank you on Google?
 A confusing message and a bad marketing strategy are costing you more than you know. Are you willing to live with that risk?
ONLY 2 OPENINGS PER MONTH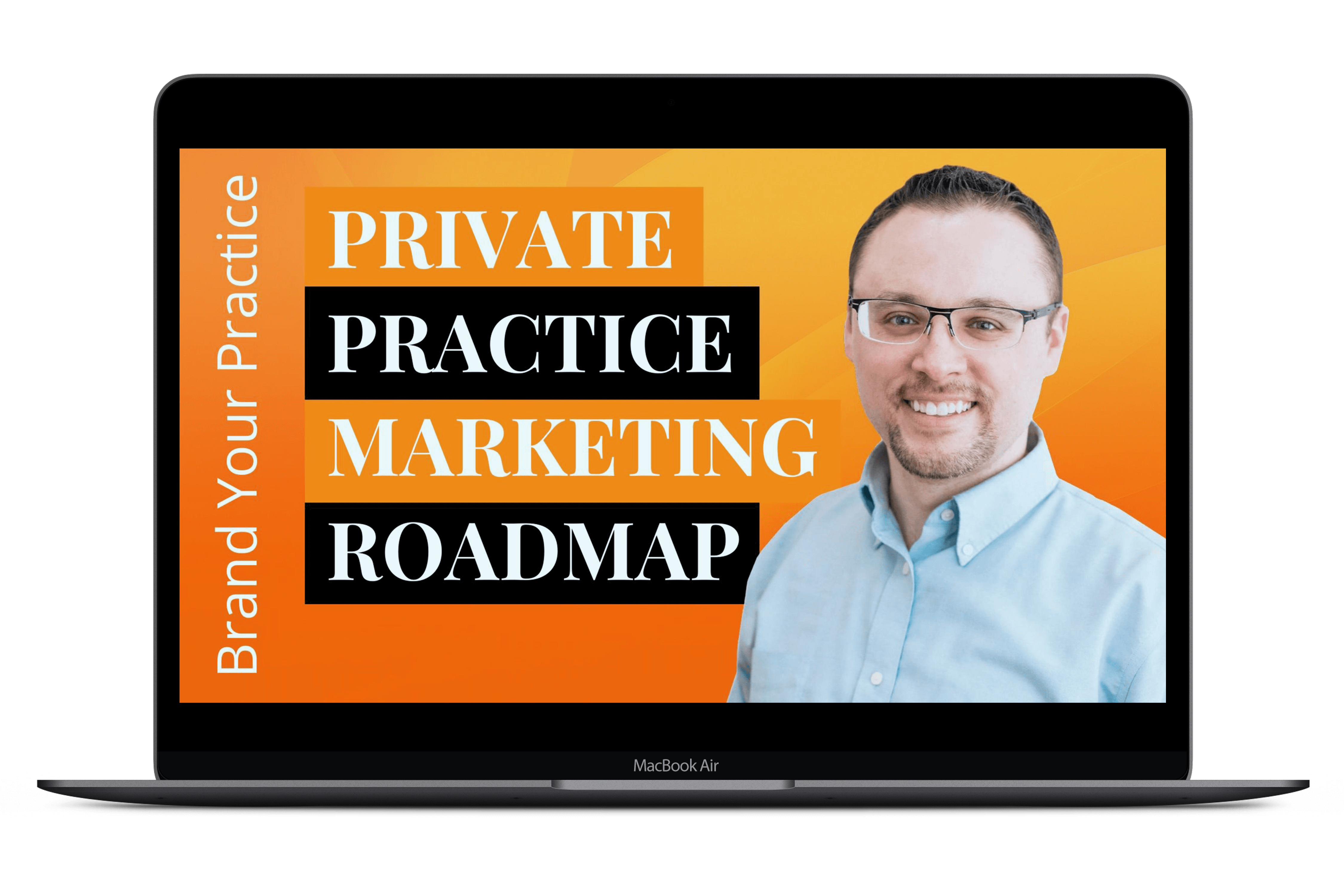 Not ready for 1-on-1 marketing coaching?
Sign up for my free video marketing series
"The Private Practice Marketing Roadmap."